December 2018
| Mon | Tue | Wed | Thu | Fri | Sat | Sun |
| --- | --- | --- | --- | --- | --- | --- |
| | | | | | 1 | 2 |
| 3 | 4 | 5 | 6 | 7 | 8 | 9 |
| 10 | 11 | 12 | 13 | 14 | 15 | 16 |
| 17 | 18 | 19 | 20 | 21 | 22 | 23 |
| 24 | 25 | 26 | 27 | 28 | 29 | 30 |
| 31 | | | | | | |
Calendar

Skye shook her head and chuckled. "You are the first person I have met in this new world. As far as I knew, like ten minutes ago, I was the only person here but by now meeting you, that theory is out of the window. Which is actually good, I don't think I'd want to be stuck on a planet by myself." Skye stated and chuckled, smiling. "As for how we got here, that I have no clue about but just from guessing, I can tell it'd be a complicated story to tell. So for now, I think I'll stick to the fact that I am glad to be alive and that there are other people out there somewhere." She told the female and shrugged her shoulders, crossing her arms other her chest and scanning her brown eyes over the buildings one more time, just like she would if she were back in her own world on a mission for S.H.I.E.L.D. Thinking about the q
uestion she had been asked, Skye shrugged her shoulders. "I haven't really been keeping track of time these past few days, but if I were to give it a time slot, I'd say at least four maybe five days if not less?" Skye estimated. "Uh, I'm Skye by the way." She introduced, dropping her arms to her sides and holding her hand out for the female to shake.
Last edited by Daisy "Skye" Johnson on Thu Jun 18, 2015 5:35 pm; edited 1 time in total



Faceclaim

: Chloe Bennet


Posts

: 2


Join date

: 2015-06-10


Age

: 30


Location

: Unknown/Parallel Universe



" A little bit of this , a little bit of that , some of this " Barry mumbled to himself as he flashed from on spot to another in the kitchen of a burger place , as he prepared himself something to eat.A while back , he had found this cute little diner in New York , Brooklyn back from when he was in his world , that was referred to him by a friend that it made the best burgers in the tri state area.Coming to find that that place still stood tall when he came here , he decided to keep it running as best as he could with fresh products , and so he could make himself every now and then one of his favorite burgers."Done " he said smiling as he picked up the burger in his hand and took a bite out of it.
"Now , a view to match" he thought to himself as he ran out of the kitchen in a flash of bright red  and yellow and in the next few seconds found himself sitting on one of the towers of the golden gate bridge , his feet dangling in the air as he took out a pair of small binoculars and looked around the city , on the empty streets and buildings around as he took every now and then another bite of the burger.The scarlet speedster almost choke on his bite when , by mistake he noticed a girl walking the streets of New York , and then seeing Kara as she joined her , and started talking.Taking one last huge bite from his burger , he ran off the bridge and speed over to their location , as he slid on the pavement , arriving next to them as he stopped , the sleeve of his hand catching on fire as he was in his street clothes and not his suit , resistant to the friction with the air at that speed.Putting out the small flame on his hand with his other hand , he looked up at the two girls before him , one Kara and one an unknown and spoke towards Kara " Addfds fdse fdffss" he tried to speak  , but all taht came out was nonsense as he was still not done with the huge chunck of burger he took before speeding over to them.
He rose his hand before them , his index finger up , indicating to give him a second as he chewed fast and swallowed and then looked at them again "You found someone new " he told Kara.
_________________



Faceclaim

: Grant Gustin


Posts

: 6


Join date

: 2015-06-10


Age

: 29



Kara chuckled, "Well, you are definitely not alone and neither am I the only one except for yourself." She informed, a polite smile playing at her features. "And yes, it is a complicated story indeed. It took me too long to process it myself." Kara took a sip from her coffee cup, letting the warm liquid burn its way down her throat; not that it affected her too much.
As the brunette introduced herself, Kara tilted her head to the side before offering her hand for a shake. "Kara Danvers." She introduced herself, shaking her hand for a moment before pulling back. "Nice to meet you." She chuckled, "As cliche as that sounds." 
As Kara felt the presence of another figure, she turned around, her gaze catching sight of the Flash; on fire. "And here is yet another living being." She spoke, her words directed to the new brunette. As Barry spoke gibberish, Kara raised an eyebrow at him, chuckling. "Please, take your time." She teased before finally nodding her head a this words. "Who has been here for 5 days." Kara nodded her head, "Skye, meet Barry. Barry meet Skye." 
Admin




Faceclaim

: Melissa Benoist


Posts

: 6


Join date

: 2015-06-09


Location

: New York City



Skye chuckled and shook her head. "It's good to know I'm not the only one here then. I'd probably end up going insane with not finding anyone around." She said, knowing it would've happened if she didn't find anyone else on this parallel universe they had all ended up on. "Think I'll save story-time for another day then, if it really is complicated." Skye stated, a small smile on her face. 
Shaking the females hand, Skye nodded her head. "Nice to meet you too Kara. I would say could've have been under better circumstances, but with the way things are playing out now, I don't think it would've happened." She said, shrugging her shoulders and breathing in as she pushed a stray piece of brown hair out of her face. 

Noticing Kara soon turn around, Skye took notice of the figure that seemingly appeared out of nowhere. But with everything Skye had seen in the past few months ever since S.H.I.E.L.D came into her life and also since the Avengers appeared, she knew nothing in her world - or any world - was normal. Raising an eyebrow as the male talked, none of his words clearly coming out, Skye shook her head and listened in as Kara introduced them to each other. Once Kara finished, Skye smiled politely. "It's nice to meet you, Barry."

_________________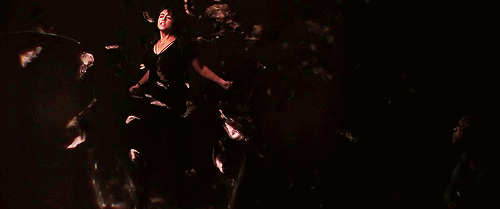 Faceclaim

: Chloe Bennet


Posts

: 2


Join date

: 2015-06-10


Age

: 30


Location

: Unknown/Parallel Universe



"Hey Skye.Nice to meet you " Barry said as he turned from Kara to the new girl , smiling "Like my coffee drinking friend here said earlier , i am Barry.Allen" he introduced himself as well personally."5 days? " he questioned."But iv been around New York before.Have not found anyone.Have you been hiding or something?" he asked her a bit curious , altho , the city was pretty huge for one man to search it all , even if he had the speed force on his side.
He then started looking around for a bit "I am a bit thirsty " he mumbled trying to spot a shop or something , but nothing seemed to be around "You know what" he told Skye before she could answer his question "Wait just one -" before he could finish he disspaeared from the spot he was just in , from before the girls eyes , in a flash , and the next blink of an eye he was back with a bottle of Pepsi in hand , opening it and taking a sip from it "Ahhhh.Thats better" he smiled " Thirsty?" he asked as he offered the bottle to Skye.
_________________



Faceclaim

: Grant Gustin


Posts

: 6


Join date

: 2015-06-10


Age

: 29





Similar topics
---
Permissions in this forum:
You
cannot
reply to topics in this forum